About Us
The Palm Springs Historic Site Foundation was founded in 1997 by Professor Carl Prout, Diana "Mousie" Powell and other concerned citizens who believed that a fuller appreciation of Palm Springs' architecture and history could be achieved through education. The Palm Springs Preservation Foundation is the spiritual successor to that original mission. Over the years the foundation has done much to achieve its stated goal of educating a host of audiences about the importance of preservation. One of the primary ways this educational goal is accomplished is with the publication of "tribute journals" to various desert architects (including William F. Cody, E. Stewart Williams) and builders (the Alexander Construction Company). The foundation has also published tribute journals that celebrate the city's Spanish Colonial Revival and Polynesian "tiki" architecture.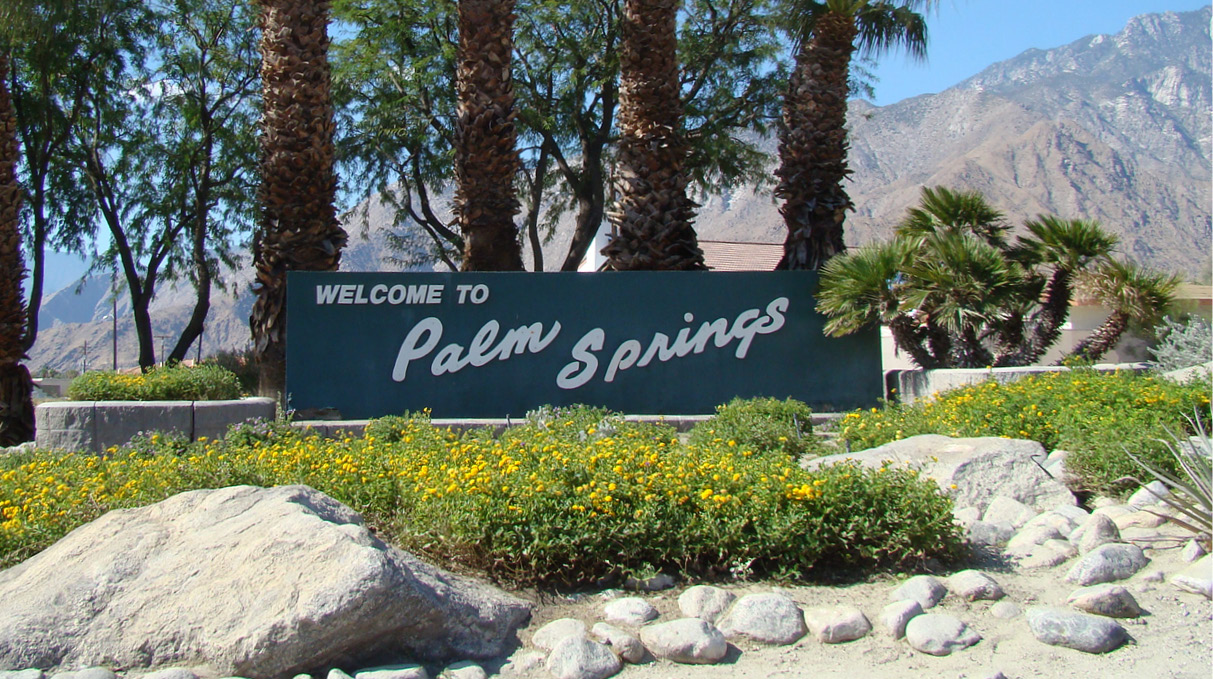 Board of Directors
Vacancies on the Palm Springs Preservation Foundation Board of Directors are filled with appointments made by the existing board in accordance with the foundation's bylaws. While candidates for the board are typically nominated by the current board, nominations from the PSPF membership are welcomed.
A board member of the PSPF is enthusiastic and passionate about the preservation of the historic resources of the city of Palm Springs and the Coachella Valley. He or she has a commitment to the ideals of preservation and the PSPF mission.
The Palm Springs Preservation Foundation's Board of Directors is composed of eight volunteers:
Tracy Conrad, At-large

Jan Harper, At-large

Gary Johns, President

Ron Marshall, Secretary

Steven Keylon, Vice President

Erik Rosenow, At-large

Barbara Marshall, Treasurer

Brad Dunning, At-large
Board of Advisors
Vacancies on the Palm Springs Preservation Foundation Board of Advisors are filled with appointments made by our Board of Directors. These advisors provide our directors with advice, insight and expertise on a wide array of matters including strategic planning, advocacy, financial objectives, corporate compliance, public relations, education and outreach, membership growth, etc.
The Palm Springs Preservation Foundation's Board of Advisors is composed of four volunteers:
Doug Hudson

Susan Secoy Jensen

Kip Serafin

Steve Vaught

Honorary Board Members
Honorary Board Members are recognized for their contributions to the fulfillment of the PSPF mission. These contributions include financial support, professional expertise and/or donations of significant volunteer time to the foundation.
The Palm Springs Preservation Foundation's Honorary Board recognizes six individuals:
Alan Hess

William Kleindienst

Marianne & Tom O'Connell

Hugh M. Kaptur

William Kopelk

The Palm Springs Preservation Foundation recognizes three former board members In Memoriam:
Donald A. Wexler, In Memoriam
Patrick McGrew, In Memoriam
William Krisel, In Memoriam
On June 15, 2021 PSPF was notified that The Modern Architecture of Hugh Michael Kaptur, written by PSPF board member Steven Keylon, had been awarded the 2021 IPPY Gold Medal for Architecture. Published by PSPF in 2019, the 152-page book showcases the major themes in Kaptur's work, from early post-and-beam Desert Modern; his bold organic sculptural architecture; his exploration of Brutalism; and designs utilizing strong geometric forms.
Read IPPY Press Release
Read 2021 Independent Publisher Book Awards Results
October 21, 2020
California Preservation Foundation 2020 Awards
On October 21, 2020 the California Preservation Foundation recognized PSPF with its "2020 President's Award for Advocacy."  Palm Springs mayor Geoff Kors made a surprise appearance during the virtual awards ceremony to congratulate PSPF.  
The CPF President's Award for Advocacy recognized the period of 2019-2020 as an extremely productive time in PSPF's "organizational life."  As part of our preservation advocacy program, PSPF pursued Class 1 Historic Resource nominations for numerous Palm Springs properties including the Kirk Douglas Residence (1954, Wexler & Harrison), the Avery Edwin Field Cabin Ruins (1920, Avery Edwin Field), Inspiration Point (1934-35, Thomas A. O'Donnell), the Walter Kirschner Residence (1934, Brewster & Benedict), the Allan & Mildred Kramer Residence (1963, James McNaughton), Piazza di Liberace (1951, John H. Slaten), the Sunmor Model Home (1955, Wexler & Harrison), the Dorothy & Roland P. Bishop Residence (1925, Dodd & Richards), the Dr. Franz Alexander Residence (1956, Walter S. White), the J. Cheney Wells Residence (1942, Albert Frey), and Thomas A. O'Donnell's Desert Golf Course (1926-45).  PSPF also submitted the Historic District nomination for the 14-unit Desert Holly condominium complex (1957, William J. O'Brien, Jr.).
As part of our publishing program, PSPF produced a scholarly 152-page book entitled The Modern Architecture of Hugh Michael Kaptur.  PSPF was also the Lead Sponsor of an exhibition of Kaptur's work by the Palm Springs Art Museum's Architecture and Design Center from February 2 – July 7, 2019.  Part of our sponsorship included free admission for more than 3,000 visitors during Modernism Week in February 2019.
In June of 2019, PSPF presented a $50,000 grant to the city of Palm Springs kicking off the city's fundraising efforts to restore the downtown historic Plaza Theatre (1936).  Throughout its existence, the Plaza Theatre has served as the center of the city of Palm Springs' cultural life.
During the award period, PSPF continued its advocacy effort to name the city's new Downtown Park after Palm Springs pioneer "Mother" Nellie Coffman, owner of the Desert Inn and one of the city's leading philanthropists.  The advocacy has included the creation of many imaginative and informational brochures, postcards, and displays.  Additionally, PSPF board members have written newspaper opinion pieces and personally met with city council members to advocate for the park naming.
A longer-term advocacy effort came to fruition in March of 2020 when plans were submitted to the city for the sympathetic rehabilitation of the historic Town & Country Center (1948, Paul R. Williams & A. Quincy Jones) by its owner.  PSPF was directly responsible for both the State of California and National Register "deemed eligible" designation as well as the local Class 1 Historic Resource designation of the complex. 
PSPF was also the lead sponsor for the California Preservation Foundation's highly-successful annual conference that took place in the city of Palm Springs from May 8-11, 2019.
February 17, 2016
On February 17, 2016 Mayor Robert Moon presented PSPF president Erik Rosenow with a proclamation for "having a profoundly positive effect on the understanding and appreciation of Palm Springs' architecture" and declaring February 17, 2016 as "Palm Springs Preservation Foundation Day" in the city of Palm Springs.
November 9, 2007
On November 9, 2007 the California State Historical Resources Commission issued a Resolution of Recognition to the Palm Springs Preservation Foundation for its "active role in the preservation of historical resources that inspire, inform, and provide a sense of community among its residents."
IN THE MEDIA
Jan/Feb/Mar 2020, Desert Charities News ("Men in Philanthropy")
October 2019, Palm Springs Life ("The Big List")
November 2018, Angeleno ("Power Players of Palm Springs")
June 2018 Issue, Phoenix Home + Garden ("Mid-Mod Mecca")
June 2018 Issue, Phoenix Home + Garden ("Functional Ornamentation")
June 2018 Issue, Phoenix Home + Garden ("Midcentury Modern Man")
April 5, 2018, Atomic Ranch ("Preservation Talks")
October 2017 Issue, Palm Springs Life ("Modernism's New Face")
May 31, 2017, CV Independent ("Know Your Neighbors: Meet Steven Keylon, a Landscape Historian Who Found a Home–With History–in Palm Springs")
July 10, 2016, Architecture & Design Museum, Los Angeles ("Fast Forward: The Architecture of William F. Cody")
February 2016, Modernism Week Catalog ("Spotlight on a Desert Maverick")
September 2015 Issue, Palm Springs Life ("The Real Steel")
July 5, 2015, Palm Springs Life ("Historic Designation Preserves, Promotes Palm Springs Architecture")
Volume 8, Issue 2, Preservation Matters newsletter ("All Things Mod: Modernism Week in Palm Springs")
Winter 2014 Issue, Modern ("Palm Springs: The Future of Preservation")
February 2014 Issue, Palm Springs Life ("Stories of Modernism")
February 2013 Issue, Palm Springs Life ("Most Endangered Modernism")
October 24, 2012, Le Temps, Architecture & Immobilier ("Ligne, horizon")
September 2012 Issue, Palm Springs Life ("Meet the Moderns")
June/July/August 2012 Issue,, Palm Springs Life, Desert Guide ("Hunt Down Retro Treasures")
Summer 2011 Issue, CA Modern ("Palm Springs preservationists keep up the fight for modernism")
October 2010, Palm Springs Life Annual Progress Issue ("Protecting the Past")
Spring 2010 Issue, CA Modern ("Architect William Krisel shines on the silver screen")
Winter 2008 Issue, CA Modern ("Palm Springs is gearing up to party down")
Letters from the President